From our earliest days, ITC has built and maintained deep connections with children in the outdoors. In fact, much of teacher research that's been conducted in the past years has often been influenced by this and taking our wonderings about children and nature a step further. This research has often been made possible by the Susan B. Twombly Grant. (See below for more details!)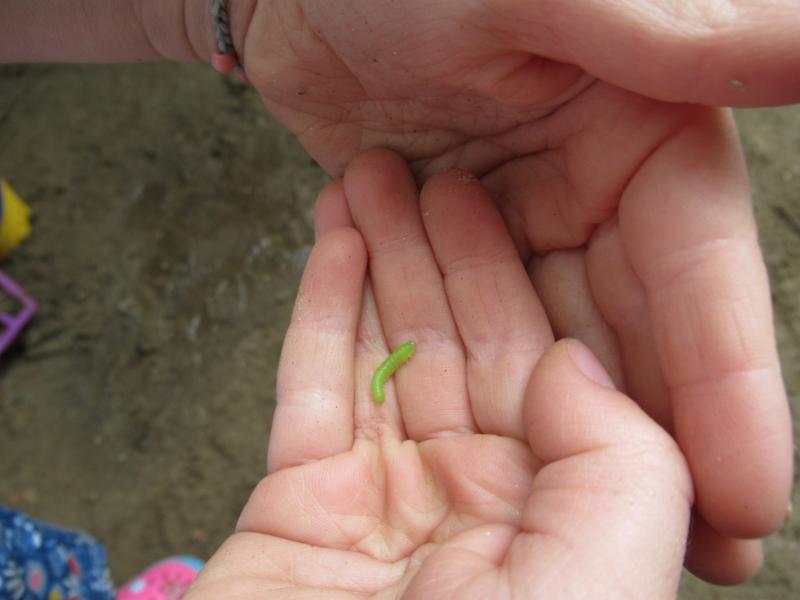 Instilling a love for nature and a responsibility for taking care of our planet is apparent at ITC. This is evident in our philosophy and cultures within the classroom as children become enamored with the tiniest creatures that make their way inside our classrooms (ants) and out on the playgrounds (birds, worms, centipedes, etc).
"If we want children to flourish, to become truly empowered, then let us allow them to love the earth before we ask them to save it."
David Sobel
It's also apparent in our Science and Nature program, as well as classroom excursions to the Big and Little Woods. We spend an extended amount of time outside, involved in all things nature, either on our playgrounds or in the woods, and find the benefits of it vital for child development across the domains. It is such a valuable relationship we have with our great Earth.
Teachers as Researchers via the Susan Twombly Grant
Seetha Gopalsamy, Debi Patuto, and Kathy Stein began our Community Garden a few years ago and continue to spearhead this project.
Viv Ricketts studied Nature Based Education and children's risk taking and continues to explore these topics during Little and Big Woods explorations with her group.
Christin Magliozzi and Brianna McGregor focused their attention on initial play yard design and loose parts play outdoors.
Going Green at ITC - Robin Stange, 2/3B
Thinking about our effect on the environment has always been a part of my teaching philosophy since I started in 2009. Teaching in New York City, where I am originally from, I noticed that the school I worked in, public or private, didn't recycle, have nature curriculum, had empty parking lots or man-made climbing structures for outdoor play, and animals were just pictures in a book. I desperately tried to make changes or introduce curriculum that included all the ways we could help our planet but was met with rejection...until I started working at ITC.
I moved to Massachusetts and began working at ITC in the fall of 2018. I still have not gotten over the amazing science and nature curriculum that we have, the sense of wonder I feel traversing the Big Woods with my 2/3B class and the fulfillment I receive when the children let me know how much fun they have in the woods. These peaceful feelings have inspired a sense of responsibility in me over the woods and our environment in general to create the ITC Green Team: a committee of like minded teachers who will work together to come up with sustainable ways to do so.
Our first order of business was to create a recycling program here at the school that would involve all classrooms and students. Single Stream Recycling will begin center wide next school year! We will be collaborating with the Community Garden to hopefully begin a composting program. The Green Team is planning on turning our parking lot into a No Idling Zone (meaning turning our cars off when we are not moving to reduce harmful emissions that children are very susceptible to). ITC has also become the first Infant-Toddler Program and has the youngest students ever to join the Massachusetts Department of Environmental Protection sponsored Green Team! I can't wait to continue bringing more of the team's ideas to life and am very dedicated to continuing to work hard to help our environment for future generations.
ITC Community Garden - Seetha Gopalsamy
We started our community garden four years ago to give us another opportunity to plant curiosity in the minds of the children to wonder where their produce is coming from and to get them involved in planting, watering, weeding, and being part of the process to see the final fruit. The present beautiful garden space is a dream come true for many staff and ITC families. From the beginning, this garden has been a team effort involving the parents, teachers, and children who come to ITC and supports the important role that learning, growing, and exploring play in our outdoor investigations. The garden has also given the children a chance to help others, as the PSB group did some weeding for the Infants and Young Toddlers.
How the Community Garden works:
each community is assigned a planter box in which to grow vegetables/fruits.

to increase our harvest, we are growing more of the same fruits/vegetables in different classrooms instead of each group growing something different.

this year's crops: tomatoes, squash, cucumber, green beans, strawberries, peppers
ITC Alums Jenn Benati and Hunter Whitbeck returned to ITC to work with the PSD class to incubate and hatch chicken eggs. They also helped the PSD children to plant peppers in their garden box! This was part of their Senior Project that focused on Sustainable Gardening.